It is with great pleasure that today I announce that I now have a custom sampler with Cigar.com. I am very excited to bring this to everybody and hope you all enjoy it. With The Daily Cigar blog sampler you will receive:
1 - 5ct Herf-a-Dor
1 - Tatuaje Cabaiguan Imperiales
1 - Room 101 '702'
1 - Gurkha Evil Toro
1 - Cigar.com Sun Grown Label Torpedo
1 - Diesel Unholy Cocktail
This sampler carries an MSRP of around $60 but if you email service@cigar.com and ask for The Daily Cigar blog sampler you will receive this sampler for only $33.95! I custom built this sampler myself to pay homage to some of the biggest supporters of my blog. A huge thanks to Matt Booth of Room 101, Pete Johnson of Tatuaje, the guys at Gurkha and The Beard from cigar.com. For the price and the sticks you get it's a fantastic deal that with the holidays approaching makes a great gift for any cigar enthusiast as it covers everything from mild to medium to full bodied cigars. Below you will find descriptions of all of the cigars featured in the sampler. I hope you order it and if so that you enjoy all the smokes and the case that they come in. Thanks!
Tatuaje Cabaiguan Imperiales
Cabaiguan is Pete Johnson's mild-medium bodied mass production cigar. The Imperiales comes to us in a 7x47 vitola. The Cabaiguan has Nicaraguan fillers and binder with a Ecuadorian grown Connecticut wrapper. This is one of the more complex mild-medium bodied cigars on the market. You'll get ever developing flavors throughout with everything from earth, wood and spice to make this creamy smoke keep you guessing throughout.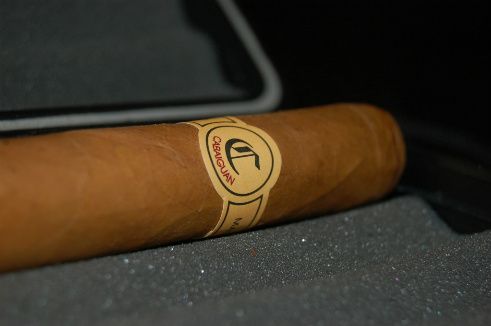 Room 101 '702'
Matt Booth's first cigar to be released. The Room 101 '702'is in a 6x54 vitola and simply put it's fantastic. All Honduran tobaccos make up this cigar. Flavors of leather, dark chocolate, espresso and an underlying spice make this cigar what it is.
Gurkha Evil Toro
Gurkha's Evil comes in a 6x50 vitola. The Evil has Nicraguan fillers, a Dominican binder and Brazilian wrapper. You'll get flavors of earth and leather at the core with pepper, spice, cocoa and hints of coffee throughout.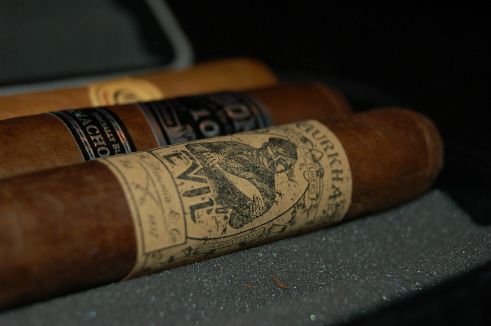 Cigar.com Sun Grown Label
The Cigar.com Sun Grown Label Torpedo comes in a 6x52 vitola. Blended by AJ Fernandez and The Beard the Sun Grown Label is my top go to cigar. An Ecuadorian Sun Grown Sumatra wrapper is where this cigar gets it's name sake. An earthy core that is surrounded by a spicy sweetness makes this cigar consistent and enjoyable. Every time I've had one out the person smoking it raves and then when I drop it's average price point on them, around $2.70 on their site, they can't believe it's that good for that price.
Diesel Unholy Cocktail
The Diesel Unholy Cocktail comes to us in a 5x56 vitola. This is one of my hands down favorite cigars. Wrapped in a beautiful Pennsylvania Broadleaf Maduro wrapper it's binder and fillers come from Nicragua. The complexity of this stick keeps you on your toes. With flavors of leather, pepper, earth, chocolaty sweetness and spice make up the blend. You can smoke it down to the fingers and the ash will hold. I had it happen once myself.